Words & Language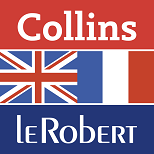 Are you tired of having to use sub-standard dictionaries on your Android device? Wish you could have all of your favourite Collins dictionaries with you all day long, even when you're stuck with no internet connection?
Then here's some good news: Collins dictionaries are now available for all Android users to own on their phones or tablets.
The longest word in the Collins English Dictionary, the longest words with no vowels, the words with the most consecutive consonants, words composed from QWERTY keyboard rows and dozens of other fascinating facts for the word buffs amongst you.
Texting your French contacts regularly is a great way to learn the language while making friends and building your social network. Check out our essential guide to French text message abbreviations.
"Affect" means influence or change something, whereas "effect" means result; produce a result. More commonly confused words...
Bungalow, shampoo, pukka and many words picked up from Hindi are still in use in English to this day.
Cricket image courtesy of Dana Ward / Shutterstock.com.
A trip to Spain invariably sends the senses into overdrive. With so many things to look at and touch, voices to listen to and food to smell and taste, let's learn some Spanish expressions to share them.